Nihon Safety's rental guarantee system
If you want to rent a room in Japan, you need a guarantor.
Many non-Japanese residents actually have trouble finding a guarantor.
Nihon Safety Co., Ltd. helps non-Japanese residents who have difficulty finding a guarantor for their apartment rental.
You need a guarantor to ensure your credit for rental contracts. Our service guarantees that your landlord will receive a monthly payment of rent.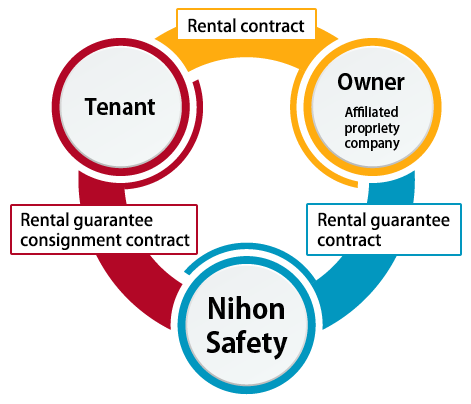 How our guarantee service works
We examine your application for the guarantee service.
Please make the necessary arrangements with a real estate company in advance.
1. Application for guarantee
[Tenant → Real estate company]
Contact a real estate company that handles Nihon Safety's guarantee system. Please submit the specified application and necessary documents.
* Remember: The documents you submit will not be returned.
2. Acceptance and examination
[Real estate company → Nihon Safety]
We review the contents of your application, confirm details, and decide whether to provide the guarantee.
3. Notice of examination results
[Nihon Safety → Real estate company → Tenant]
After we examine the application, the real estate company will notify the tenant of the results of our decision.
*Your application may be rejected on the basis of the information it contains.
4. Contract
[Real estate management company ←→ Tenant]
When your application is accepted, you will be asked to enter a guarantee consignment contract. Sign and seal the contract, and pay the guarantee charge*1.
The guarantee period is one year. If you continue renting over a long term, the guarantee period will have to be renewed every year. You will have to pay a safety fee for each renewal.
*1 The guarantee charge is not a safety deposit. It will not be returned even if you cancel the contract within the guarantee period.
Documents necessary for application
Documents for identification

Resident card or Special permanent resident certificate or Certificate of Alien Registration [Copy of front and back]
Home country emergency contact information form [Our format]

Certified copy of commercial registration (within 3 months)
Document for identification of the guarantor
*You may be asked to submit other document(s), depending on the contents of the contract.
*Please provide emergency contact information when applying.
FAQ
I'm planning to rent an apartment using the rental guarantee system. Can I use the system to rent any type of room or building?

The properties that can be rented through the rental guarantee vary from real estate company to real estate company. Please contact the real estate company for details.

Are there any restrictions on my nationality, age, vocation, or other personal details when I apply?

If you can pay your monthly reliably, there are no restrictions on your nationality, age, or vocation. You can apply freely.

I want to open a restaurant. Can I use the rental guarantee system to rent a restaurant?

Our rental guarantee system covers not just dwellings, but also stores, offices, and many other types of spaces. Please contact us for details.